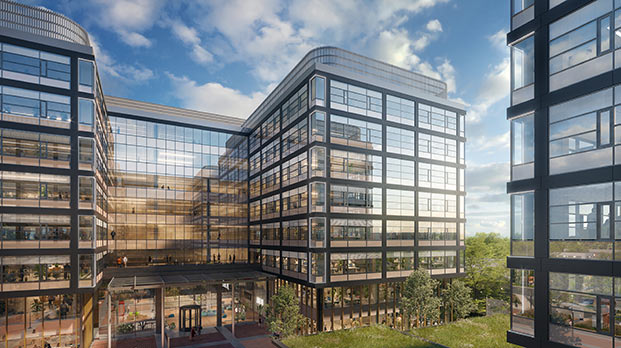 Designed to perfection
J8 is designed to BREEAM OUTSTANDING certification and will have solar panels for on-site hot water generation. Our last project, EXPO Business Park, was the first (and currently only) new-build office development in Bucharest to achieve BREEAM OUTSTANDING.
A safer working environment
100% Fresh air supply
Ventilation system that introduces 100% fresh air - no recycled air intake.
Air Handling Units with internal rounded edges to prevent the build-up of dust and which are easier to clean – used in hospitals and medical facilities.
HEPA (High Efficiency Particulate Air) H14 filters in the ventilation system which capture up to 99.995% of microscopic contaminants including dust, pollen, spores, bacteria and external pollution. Excellent for asthmatic or allergenic employees
UV-C / UVGI (Ultraviolet germicidal irradiation) lamps in the Air Handling Unit as an additional barrier to viruses and bacteria.
Openable windows every column grid to enable purge ventilation.
Touch free and safe materials in common areas
Smarter destination controlled lifts: New generation of lift control system connecting the entrance card, used to gain entrance to the building, to open the turnstiles and call a lift to the required destination floor without touching any buttons. J8 is low rise so lift traffic will be manageable with less people in each lift.
Motion sensor activated lights in all basements, lift lobbies and bathrooms thus hygienic no-touch control.
Motion sensor revolving doors: The 3.5m diameter revolving doors at the entrances facilitate a higher traffic while keeping a safe distance.
Molded bathroom wash hand basins from a Corian type material which does not support the growth of bacteria - recommended for surfaces in medical facilities
Floor and wall sufraces that are easy to clean and do not harbor dust or dirt. Self cleaning sufaces will be included where possible.
UV-C / UVGI in the Air Handling Unit
Specification
BREEAM rating
The project is designed to BREEAM OUTSTANDING certification level.
Access Control
Access control system HID – RP40 compliant proximity readers installed at all vehicular and pedestrian entry and exit points.
Building Fabric
The facade cladding is made of etalbond®, a fully recyclable material. The façade is double glazed with dual seal construction with the outer pane manufactured to repel solar gains.
Building Management System
A fully automated intelligent Building Management System (BMS) will switch, control and monitor the building's environmental services and associated back-up systems.
CCTV
The building will be equipped with intrusion detection and CCTV system.
Fire detection alarm system
A fully addressable fire detection system in the building is designed to the highest requirements of the norms. The fire alarm systems will be integrated into the building management systems to provide alarm signals for plant shutdown and life safety activation.
Floor loading
Floors – 2,5 kN/m² plus an allowance of 0,5 kN/m² for partitions.
Heating & Cooling
Fresh air will be injected into the buildings by independent air handling units. Heating and cooling will be provided by four pipe fan-coil systems allowing all year round cooling if required, served from high-efficiency condensing boilers and water cooled highly efficient chillers with winter free cooling. The solar panels on the roofs will provide power to heat the water in the buildings. Designed occupancy - open plan offices: 1 person per 8 m2 net
Lifts
Touch-free smart destination controlled lifts.
Lighting design & levels
High efficiency LED luminaires are used in office and parking areas to provide a very economical lighting system. Motion detection control is used in areas which are temporally occupied such as parking, staircases and toilets. General offices have 450-500 lux, while lift lobbies have 200 lux.
Raised floors
Raised, full access floors, with 90 mm minimum clear void in all general office floors.
Tenant power supply & distribution
The Tenant will be provided with sub-metered power connections.